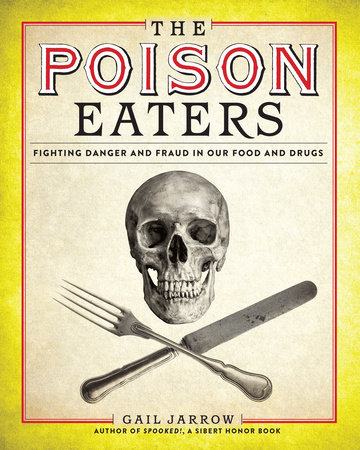 The Poison Eaters: Fighting Danger and Fraud in Our Food and Drugs
by Gail Jarrow
Calkins Creek, 2019
Grades 6 and up
Gail Jarrow is the master of blending science, history and government policy into a fascinating nonfiction read for tweens and teens. Her past books have covered topics such as typhoid fever, the bubonic plague and pellagra. In
The Poison Eater
s, Jarrow paints a vivid picture of what life was like for ordinary Americans before the government passed food safety laws and established the Food and Drug Administration. Can you imagine a time when corporations put lead, cocaine, arsenic and morphine in our food and health products? The book places the spotlight on the mavericks and mud rakers, such as Harvey Wiley, who stood up to big businesses and the government to protect the health and safety of our citizens. Readers will learn about how the Food and Drug Administration was formed and which presidents supported and opposed regulating the food industry. In addition to food safety, the book examines beauty products, medications and home remedies from the turn of the 20th century to present day.
This text is written in an intriguing, narrative style accompanied by many primary sources including advertisements, photographs and newspaper articles. The book gets its title from a controversial study that was performed on healthy, male subjects who were served a daily dose of boric acid in their meals. Wiley used the study to prove that boric acid was not safe for human consumption; and the subjects of the study became known as "The Poison Eaters." As with Jarrow's other books, the story unfolds chronologically and ends with the present day allowing readers to make comparisons between past and present. Don't skip over the back matter, which includes a lengthy bibliography, source notes, timeline, and an author's note. I'm intrigued to find out what topic Jarrow will tackle next!
Other books by Gail Jarrow:
Fatal Fever
Bubonic Panic
Spooked!
Red Madness